(links)

(7 intermediate revisions by one other user not shown)
Line 1:
Line 1:
−

{{game|BBS}}

+

{{game|BBS}}

−

[[File:PhotonCharge.png|right|300px|thumb|Aqua using Photon Charge in the [[Mysterious Tower]]]]

+

[[File:.|| using Photon Charge in [[ ]]]]

 

{{nihongo|'''Photon Charge'''|フォトンチャージ|Foton Chāji}} is a technique that appears in ''[[Kingdom Hearts Birth by Sleep]]''. The attack consists of cloaking yourself in light and rushing at the targets.

 

{{nihongo|'''Photon Charge'''|フォトンチャージ|Foton Chāji}} is a technique that appears in ''[[Kingdom Hearts Birth by Sleep]]''. The attack consists of cloaking yourself in light and rushing at the targets.

 
 
Line 7:
Line 7:
 
 
 

==Learning Photon Charge==

 

==Learning Photon Charge==

−

===''Kingdom Hearts Birth by Sleep''===

+

===''Kingdom Hearts Birth by Sleep''===

 

*[[Terra]], [[Ventus]], and [[Aqua]] can purchase Photon Charge at the [[Mirage Arena]] Medal Shop for 1600 medals.

 

*[[Terra]], [[Ventus]], and [[Aqua]] can purchase Photon Charge at the [[Mirage Arena]] Medal Shop for 1600 medals.

−

*Terra, Ventus, and Aqua can purchase Photon Charge from a bonus panel at the [[Skull Board]].

+

*Terra, Ventus, and Aqua can purchase Photon Charge from a bonus panel the [[Skull Board]].

 

{{ability-stub}}

 

{{ability-stub}}

 
+

[[fr:Charge photonique]]

−

[[Category:Kingdom Hearts Birth by Sleep commands]]

 
−

[[Category:Shotlock commands]]

+

[[Category:Shotlock commands]]
---
Revision as of 21:23, 10 February 2019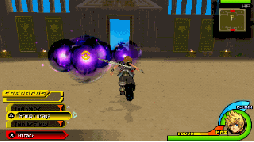 Photon Charge (フォトンチャージ Foton Chāji?) is a technique that appears in Kingdom Hearts Birth by Sleep. The attack consists of cloaking yourself in light and rushing at the targets.
Mechanics
In Kingdom Hearts Birth by Sleep, Photon Charge is a Shotlock that has a maximum level of 4 and max lock of 15. Once the attack has begin, the player can perform extra attacks by pressing Template:Button when prompted to pierce enemies with pillars of light.
Learning Photon Charge
Community content is available under
CC-BY-SA
unless otherwise noted.