"Hey Riku.... what do you think it was, the Door To The Light?"

"This."

"This?"

"Yeah. It's always closer than you think."

- Sora and Riku at the end of Kingdom Hearts II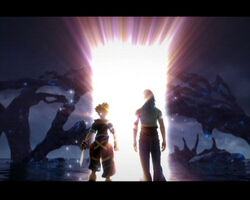 The Door to Light leading to the Realm of Light. It's opposite counterpart is the Door To Darkness. It was the door Sora and Riku went through while they were stuck in the Realm of Darkness. It is not sure what caused the door to appear, one reason could be, as Riku pointed out at the end of the game was the light within Sora's Heart which was brought out by Kairi's Letter.
Expansion required
This article is too short to provide more than rudimentary information about the subject. You can help the
Kingdom Hearts
Wiki by
expanding it
.
Community content is available under
CC-BY-SA
unless otherwise noted.